Biography -- Discography -- Festivals -- Clubs -- Camps -- Radio
[For shorter versions of Joel's biography and other promotional copy, click here]

Joel Mabus Biography (updated in 2013)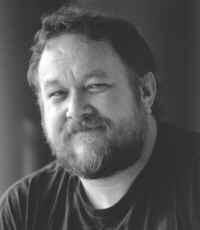 (de)
Joel Mabus has split his long career in folk music between the traditional and the original. Split is perhaps not the proper word, because the old and the new intertwine in his music. This is true whether he is singing an old ballad with a new interpretive twist or writing a new song that sounds like it has been handed down from generations past. You might find him fingerpicking piedmont blues on the guitar, claw-hammering out a mountain tune on the banjo, or fiddling for a square dance – or singing his own original songs in folk clubs from Cambridge to Berkeley .
Where is he from? He was born and raised in a working-class family in a modest Southern Illinois town, about 105 miles southeast of Mark Twain, 190 miles northwest of Bill Monroe, 110 miles southwest of Burl Ives and just over the river and up the hill from Scott Joplin. When Joel's mother and father (Ruby Lee & Gerald Mabus) came of age in the Great Depression, they took their old-time farm-grown music on the road with other family members as "hillbilly" entertainers, barnstorming the Midwest in medicine shows, small-town radio programs as well as their long-standing job performing road shows for Prairie Farmer, the parent company of the WLS Barn Dance, the progenitor of the Grand Ole Opry.
This pedigree was not lost on Joel as a child. When his baby-boom schoolmates were grooving to the Beach Boys and the Monkeys, he was drawn to the tunes of the Carter Family, Bill Monroe and Jimmie Rodgers. He also absorbed the blues and spiritual music that is thick in his native Southern Illinois along the Mississippi River .
The family mandolin was his first instrument, quickly adding banjo, guitar and fiddle. Harmony singing was learned at home, and at the local holiness church. Attending college in Michigan in the early 1970's, he studied anthropology by day and learned the business of being a professional musician by night. Interests grew beyond bluegrass & old time stringband music, and Joel studied other forms of folk music, western swing, and even Celtic dance music long before it was the fad. He also began to write songs.
After journeyman's work in several local bluegrass and string bands, Joel made his first record for a Michigan label in 1977 with mandolin legend Frank Wakefield guesting. Three years later he signed with Flying Fish Records for a two-record deal. In 1986 he was one of the first established folksingers to start his own independent label (Fossil Records), even before the advent of the home studio and compact disc, which make the practice so common today.
Joel Mabus has toured widely and makes his living at music, though he is – like most folk musicians touring in the 21st century – flying under the radar of American pop culture. Whether you label him folk, Americana , or a singer-songwriter, Mabus remains a one-off, walking that lonesome valley, making and marking his way as a working artist outside the confining walls of the usual music business.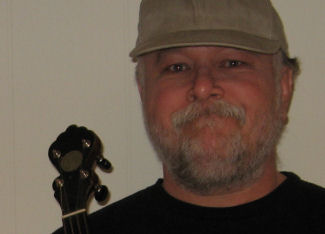 PEPPER'S GHOST & OTHER BANJO VISITATIONS — 2013 (Fossil Records 2313)

A PARLOR GUITAR CHRISTMAS — 2012 (Fossil Records 2212)

AMERICAN ANONYMOUS — 2011 (Fossil Records 2111)

NO WORRIES NOW... — 2009 (Fossil Records 2009)

THE JOEL MABUS OMNIBUS — 2008 (Fossil Records 1908)
(a compilation drawing from Firelake, Fossil 390 & Short Stories, Fossil 592)

RETOLD — 2008 (Fossil Records 1808)

THE BANJO MONOLOGUES — 2007 (Fossil Records 1707)

PARLOR GUITAR — 2005 (Fossil Records 1605)

GOLDEN WILLOW TREE — 2004 (Fossil Records 1504)

THUMB THUMP — 2002 (Fossil Records 1402)

SIX OF ONE — 2001 (Fossil Records 1301)

HOW LIKE THE HOLLY — 1999 (Fossil Records 1299)

TOP DRAWER STRING BAND — 1999 (Fossil Records 1199)

RHYME SCHEMES —1997 (Fossil Records 1097)

WESTERN PASSAGE — 1996 (Fossil Records 996)

PROMISED LAND — 1994 (Fossil Records 894)

FLATPICK & CLAWHAMMER — 1993 (Fossil Records 793)
(a combination of two tape releases: CLAWHAMMER, Fossil 491C & FLATPICK Fossil 693C)

SHORT STORIES — 1992 (Fossil Records 592)

FIRELAKE — 1990 (Fossil Records 390)

THE NAKED TRUTH — 1988 (Fossil Records 288)

FORTUNES — 1987 (Fossil Records 187)

FAIRIES & FOOLS — 1983 (Flying Fish LP 296) (out of print)

SETTING THE WOODS ON FIRE — 1980 (Flying Fish LP 235) (out of print)

GRASSROOTS — 1978 (Grand River Records 003)
Debut LP featuring Frank Wakefield (out of print)

JOEL HAS PLAYED SOME OF the top festivals:
THE ANN ARBOR FOLK FESTIVAL - Ann Arbor, MI

BIG MUDDY FOLK FESTIVAL - Boonville, MO

THE BOSTON FOLK FESTIVAL - Boston, MA

CHAMPLAIN VALLEY FOLK FESTIVAL – Burlington, VT

CTMS SUMMER SOLSTICE FESTIVAL - Los Angeles, CA

GREAT LAKES FOLK FESTIVAL - East Lansing, MI

KENT STATE FOLK FESTIVAL - Kent, OH

KERRVILLE FOLK FESTIVAL - Kerrville, TX

LIVE OAK MUSIC FESTIVAL - Santa Barbara, CA

MARIPOSA FOLK FESTIVAL - Barrie, Ontario

THE MIDWINTER SINGING FESTIVAL - East Lansing, MI

OLD SONGS FESTIVAL - Altamont, NY

THE PHILADELPHIA FOLK FESTIVAL - Schwenksville, PA

SAN DIEGO FOLK HERITAGE - San Diego, CA

STRAWBERRY MUSIC FESTIVAL - Yosemite, CA

SUMMERFEST - New Bedford, MA

SUMMERFOLK - Owen Sound, Ontario

VANCOUVER FOLK FESTIVAL -Vancouver, BC

THE WALNUT VALLEY FESTIVAL - Winfield, KS

WHEATLAND MUSIC FESTIVAL - Remus, MI

WINNIPEG FOLK FESTIVAL - Winnipeg, Manitoba

& folk clubs / concert series:
THE ARK – Ann Arbor, MI

CANAL STREET – Dayton, OH

THE CHERRY TREE – Philadelphia, PA

THE COFFEEHOUSE EXTEMPORE` – Minneapolis, MN

DOWN HOME – Johnson City, TN

DOWN EAST FOLK ARTS - Beaufort, NC

THE FOCAL POINT – St. Louis, MO

FOLKSTAGE - Chicago, IL

FREIGHT AND SALVAGE – Berkeley, CA

FOX VALLEY FOLK – Aurora, IL

GODFREY DANIELS – Bethlehem, PA

THE IRON HORSE – Northampton, MA

KENTUCKY ACOUSTIC GUITAR MASTERS - Louisville, KY

OLD TOWN SCHOOL OF FOLK MUSIC - Chicago, IL

PASSIM (and CLUB PASSIM) – Cambridge, MA

PORTLAND FOLK SOCIETY - Portland, OR

THE SOUNDING BOARD - Hartford, CT

SEATTLE FOLK SOCIETY - Seattle, Wa

TEN POUND FIDDLE – E. Lansing, MI
AUGUSTA HERITAGE - WV

PUGET SOUND GUITAR WORKSHOP - WA

CALIFORNIA COAST MUSIC CAMP - CA

SUMMER ACOUSTIC MUSIC WEEK - NH

SUMMERSONGS at ASHOKAN - NY

MARYLAND BANJO ACADEMY - MD

MIDWEST BANJO CAMP - MI

STRINGALONG WEEKEND - WI

LAMB'S SONGWRITER RETREAT - MI

FOLK COLLEGE - PA

BUFFALO GAP DANCE WEEK - WV

MICHIGAN DANCE HERITAGE - MI

& nationally syndicated radio:
A PRAIRIE HOME COMPANION

THE FOLK SAMPLER (theme song)

RIVER CITY FOLK

OUR FRONT PORCH

RURAL ROUTE 3

DOCTOR DEMENTO

FLEAMARKET

© 2013 Joel Mabus
Last revised: October 10, 2013 .