The pictures displayed here on your screen are small versions -- or "thumbnails" of the real photo.
Click on thumbnail for full photo (which you can save using your browser's "edit" function),
then use your browser's "back" button to return to this page.
Old time family photos -- Joel's earlier days -- Recent shots -- Publicity Photos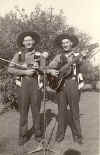 Joel's dad and his twin brother,
Gerald and Jerald Lee Mabus in 1937.
Gerald was the fiddler,
Jerald played guitar and banjo.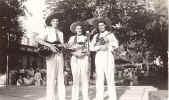 Gerald and Jerald Lee Mabus
with their tall older brother, Narvel on guitar.
Mascoutah, IL 1936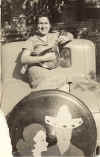 Joel's mother, Ruby Mabus (nee Lee)
with her mandolin.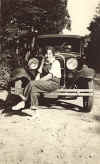 Ruby in a more casual pose.

Joel's maternal grandparents,
Oscar & Minnie Lee c.1940, Trenton, IL.
On the Firelake CD, there is a song
written for "Oscar & Minnie."

The Mabus Bros. with
Charles "Bud" Lee (Ruby's brother) on bass.
When they worked for Prairie Farmer,
they were called the White Star Rangers.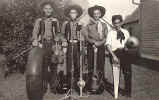 The White Star Rangers with
unknown guest artist on
tire, rubber glove, musical saw and vacuum cleaner.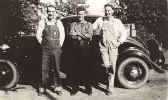 In their off hours.

A promotional photo for the Prairie Farmer crew in Illinois. Prairie Farmer was the time honored progressive newspaper for the farm families of the Midwest. In the thirties, PF owned radio station WLS, the home of the National Barn Dance. To sell the paper and promote the station, each state had a crew of musicians who performed road shows similar to the Barn Dance.
Photo taken in Decatur, IL, March 1941. Back Row: (L to R) Ted Renshaw, Elisabeth "Bess" Lee (nee McCutcheon) , Gerald Mabus, Ruby Lee Mabus, Charles Lee, Henry Glossop. Front Row, (L to R) Larry Renshaw, Lucille & Opal Ives, Basil Musgrave. Lying down: Bill Builta.
Ted Renshaw managed the group -- Larry was his younger brother. Opal Ives was married to Arty Ives, Burl Ivesí brother. Bess Lee was married to Uncle Bud Lee. Her sister, Virginia McCutcheon, married Jerald Lee Mabus. (At the time of this picture Jerald Lee was very ill -- he and Virginia had left the troupe.) Basil Musgrave, the lap steel player was missing his left hand, and had a device to hold his steel bar in place. Bill Builta was the troupe clown.


Christmas in 1957. The cowboy
with the toy trumpet is Joel.
The older brother is Gerald Wayne Mabus

Around 1976, playing a Gibson Mandocello
in Elderly Instruments, the famed
music store in East Lansing, MI.
(SS)

With Frank Wakefield during the making of
debut recording, "Grassroots," in 1977.
Frank had his Lloyd Loar Gibson F5
Mandolin painted red at the time.
(DM)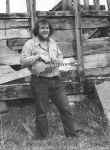 Also from 1977, holding Frank's other mandolin.
(DM)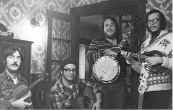 From 1978, The Native Sons,
Michigan's premier "folk-swing-bluegrass" band.
L to R, Joe Fitzpatrick, Ray Kamalay,
Joel Mabus, Brian Bishop
(DM)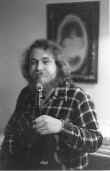 Also from around 1978
(DM)
Concert shots from the early 80's
Promo shots from 1987:
And the early 90's:

Recent publicity shots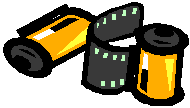 All of the above photos were scanned at 75 dpi (dots per inch), which is suitable for on-screen duplication and xerox-quality printing
If you are looking for publicity photos --
scanned at a higher resolution suitable for better printing,
CLICK HERE FOR PHOTOS SCANNED AT 150 DPI
CLICK HERE FOR PHOTOS SCANNED AT 300 DPI

(c) 2002 Joel Mabus
Last revised: March 14, 2007 .