Welcome to the Joel Mabus Tip Jar!
bῠsk: v.i. 1. To perform music or other entertainment in the street or another
public place for monetary donations.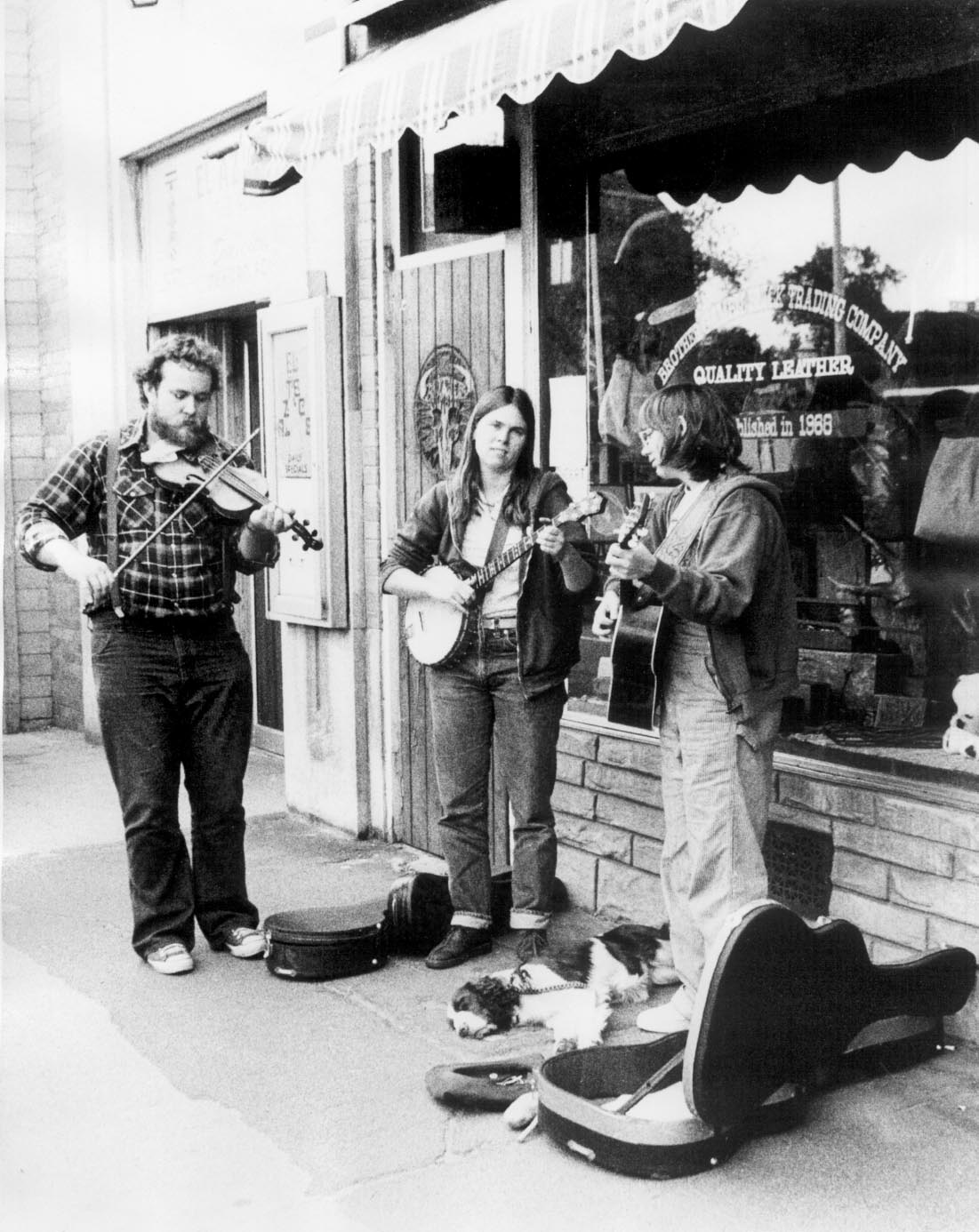 Busking on MAC Avenue In East Lansing, MI c. 1978?
Joel Mabus on fiddle, Jody Platt on banjo, Marcy Marxer on guitar.
The dog is keeping one eye open on the tips in that guitar case!
BACK TO THE TIP JAR
The first gig I ever had as a folksinger was in 1971 in my hometown, just after High School graduation, I was seventeen. The place was a new hole-in-the-wall hangout in downtown Belleville on Church Street, called "The Coffee House" (how original!) Nobody drank coffee there -- it was a "coke & hamburger" joint with folk music in the evening. The musicians got paid via a tip jar, but I always seemed to earn a few bucks by the end of the night -- plus a free burger. Ah, the taste of show business!
Fast forward a few years to the mid-70's and I was sometimes found to be busking on the streets of my college town: East Lansing, MI, with an open guitar case for passers-by to toss in some dough. I even have a picture of me doing just that (above) with a couple of friends. (Thanks to whoever sent that photo to me!)
I thought those days were long behind me. But now in the age of Coronavirus Pandemic, it seems all my gigs are virtual-only, and donations are the wage of the day.
You may have been directed here to this page after encountering my music elsewhere -- seeing a video of me online, or hearing my recordings, or a taped performance. If so moved to do so, please feel free to donate any wee gift to my virtual Tip Jar via PayPal.
The button at the top of this page makes this very easy.
If you are already registered with PayPal the button makes it even easier. If not registered, they will probably ask you to do so. I hope you consider it -- it is pretty quick and safe: PayPal has been a secure & trusted way to send money for more than 20 years. Their "donate" button makes this "online Tip Jar" possible.
Whatever you decide, a big thanks for stopping by, either way!
JOEL
[click here to go to the Joel Mabus Home Page]