Parlor Guitar --
the book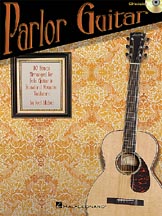 Book/CD Hal Leonard, pub. 2006
ISBN-13: 978-1-4234-1251-9
ISBN-10 1-4234-1251-6
For my guitar-picking friends --
After much hard work, the book has arrived. I personally wrote out note-for-note transcriptions of ten of the longer songs from my 2005 CD, Parlor Guitar. The top staff is fully notated music notation for fingerstyle guitar. The bottom staff is guitar tablature, all done to Hal Leonard specs for guitar music. The songs included are:

They Didn't Believe Me by Jerome Kern
Swanee by George Gershwin
Tishomingo Blues by Spencer Williams
Sobre las olas (Over The Waves) by Juventino Rosas
Paper Doll by Johnny S. Black
Glowworm by Paul Lincke
Alexander's Ragtime Band by Irving Berlin
April Showers by Louis Silvers
Tiger Rag by Nick La Rocca, et al
Grand Old Rag by George M. Cohan
There is an audio CD included with the book that has these 10 songs, all reproduced from my original Parlor Guitar album (note: the original full album has 16 more tunes not included with the book's CD).
The suggested retail is $14.95 in music stores.
COVID-19 Pandemic notice:
It is probably your best bet in these days to order this book via Amazon. Here is a direct link as of 4/22/2020, if the link won't work search "joel mabus parlor guitar book" at Amazon:
https://www.amazon.com/Parlor-Guitar-Arranged-Standard-Tablature/dp/1423412516
Shipping would be extra, unless you are a Prime member, or are ordering other stuff. You know how Amazon is.

I try to keep a small number of books on hand, for mail orders, but these days who knows? If I have copies I would charge $15, plus $4 processing per book and $6 shipping and handling. $25 total for one book sent. Email me for shipping details. I take checks, or send invoices for cc, or take PayPal

If you want to go "old school" here's the drill:
send $25 for one book and tell me where to mail (USA only*).
Make checks out to me and send to:
JOEL MABUS
PO BOX 306
PORTAGE, MI 49081
And be sure to tell me if you want it autographed or personalized.
Best to send an email first to see if I have copies on hand.
* postage from USA to other countries is terribly high these days. I can give you a quote, but you would most likely find it cheaper to order this book through a retailer in your own country. Hal Leonard is a world-wide publisher of music instruction books.

© 2008 - 2020 Joel Mabus