How Like The Holly liner notes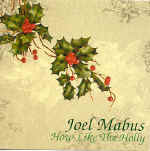 Christmas comes as bundles of twelve and so my gift for you. Here spin an even dozen for your holiday - twelve melodies - some new, some old and familiar, some so old as to be nearly forgotten. Whether you revere the holiday as Holy Day, or simply choose to celebrate the wondrous twirling of the seasons, I wish you peace as you unwrap this small bundle.

When nights are longest and days are coldest comes the time for telling stories. The time for fire against the chill, light against the dark, bread against the hunger - we huddle close and swab our fears with our finest and oldest comforts. Denying the storms of brutal nature, we make for ourselves a place where it is safe to dream, where it is safe to be a child, or to become a child in dreams again.

This is a place where bold myth and subtle mystery transpose, where faith is born of legend, where wide-eyed hungers feast on ancient certainties. A place with noble tales spinning and weaving through the decades like stout cords, holding us fast to the bosom of humanity - this is the place we rebuild each December - this is the place I call my Christmas.

1. How Like The Holly (Mabus, 3:20) Long before there was a holiday called Christmas, people of the north were bringing green sprigs into their homes as a charm of the winter solstice. Symbols of life - the holly, the ivy, the rutting of the deer - these were the stuff of myth that sustained human kind in the bleak land of winter. I wrote this song to celebrate that wonder.

2. The Cherry Tree Carol (Traditional, 3:06) This lovely old story dates back to medieval times. The version I sing is a variant of the Appalachian tradition. I've pieced it together over the years from a number of versions.

3. Rorate Ceoli Desuper (Traditional, 2:30) A Scottish Advent carol I learned from the singing of Jean Redpath. I perform it as a guitar instrumental and, as such, makes a good tune the year round, in my opinion. I recorded it once before on my Firelake album. For those who are Latin-impaired, the pronunciation is roughly "roh-RAH-tay CHAY-lee DAY-soo-PAIR."

4. The Friendly Beasts (Traditional, new words & melody by Mabus, 2:50) They say the animals speak on Christmas Eve at midnight. That legend may be entwined with this twelfth century charmer. I have put my stamp on this old one by tinkering with both the lyrics and melody.

5. Es ist ein' Ros' entsprungen (Traditional, 2:07) In English this is usually called Lo How a Rose E'er Blooming. It first appeared in print in Cologne in 1600. Michael Praetorius published his harmonization in 1609 in Musae Sioniae. ("Praetorius" is a latinization of "Schultz," by the way.) I use his version as a starting point for my guitar arrangement as the first melody of my ancient Christmas trilogy.

6. How Vain The Cruel Herod's Fear (Traditional, 1:11) The title says it all, doesn't it? The second part of the guitar trilogy is this brooding piece I found in an old songbook with little to say of its origins.

7. The Golden Carol (Traditional, 1:54) An old English tune to end up the trilogy. The lyrics to this one extol the virtues of Christmas morning to the point of wishing to die upon that day for the simple glory of it all.

8. Christmas Bells (Longfellow, Mabus, 3:22) Henry Wadsworth Longfellow wrote the dark poem "Christmas Bells" in 1863 after his son had been seriously wounded as a lieutenant in the Army of the Potomac. There have been several musical settings over the years. This one is of my own devising, based on a traditional melody I learned from the Waterson family of England. As lyrics to song, the poem is often truncated as it is here.

9. Children Go Where I Send Thee (Traditional, 8:14) A wonderful old song from the African American tradition. It works on so many levels. In a land of slavery it is a song of escape. In a land of a foreign language and a new religion, it teaches counting and rhyming as well as theology. I take the banjo all the way to ten on this one, as the layering of verses is part of the magic.

10. The One Horse Open Sleigh (Pierpont, 1:39) I couldn't resist including a ragtime guitar arrangement of this old chestnut. Actually not a Christmas song at all, American songwriter James Pierpont (uncle and namesake of J.P. Morgan) published this celebration of winter sport in 1857. The popular title today is, of course, Jingle Bells.

11. Let's Do Christmas Right (Mabus, 3:41) I wrote this one to get a few things off my chest.

12. Away In A Manger (Traditional, 1:20) A sweet waltzing lullaby to finish off. The lyrics to this well-known song were first published anonymously as a poem in an American Lutheran publication titled Little Children's Book. Shortly after, in 1887, this melody was set to it and titled Luther's Cradle Hymn. As such, it was published by one James R. Murray. Scholars surmise the tune may in fact be his own creation. It certainly is not Martin Luther's, as was purported. There have been documented at least forty different settings for the poem. To my ear, this one is still the most charming.

[back to HOW LIKE THE HOLLY recording page]

(c) 1999 Joel Mabus