The Banjo Monologues
liner notes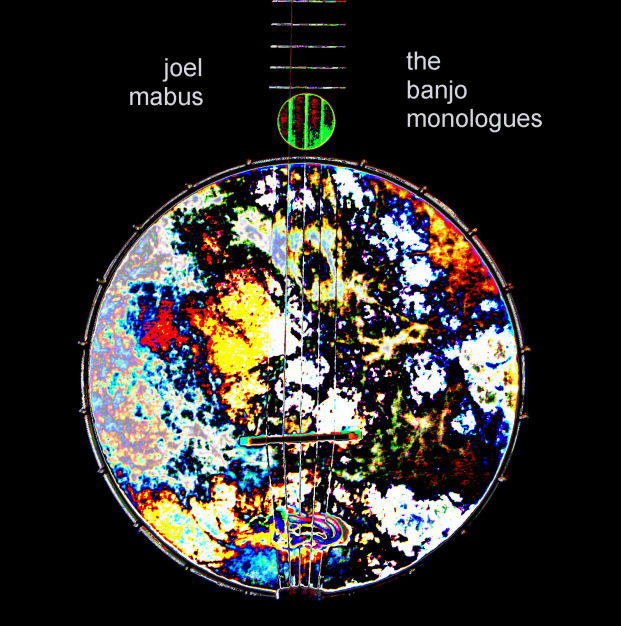 front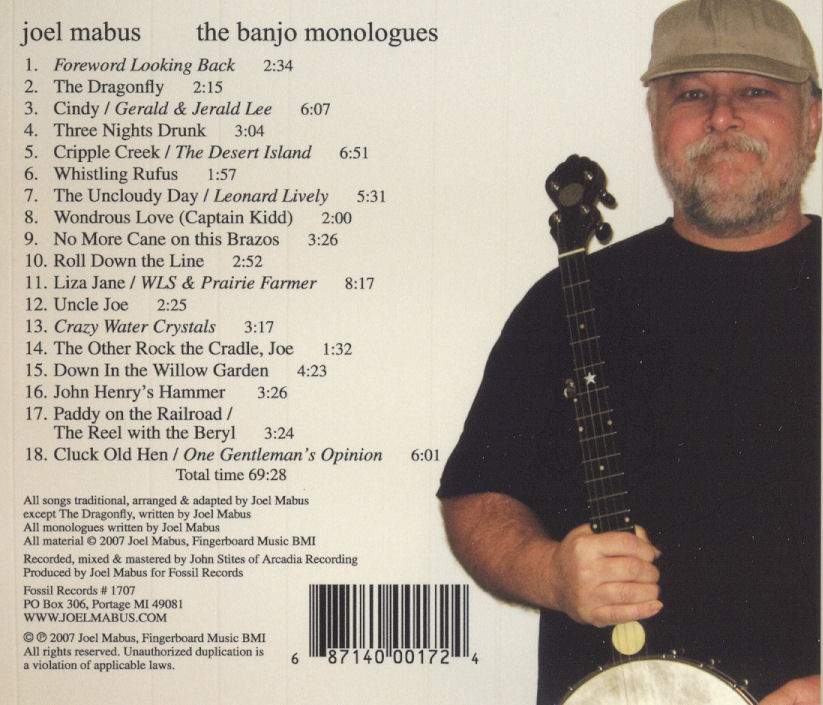 traycard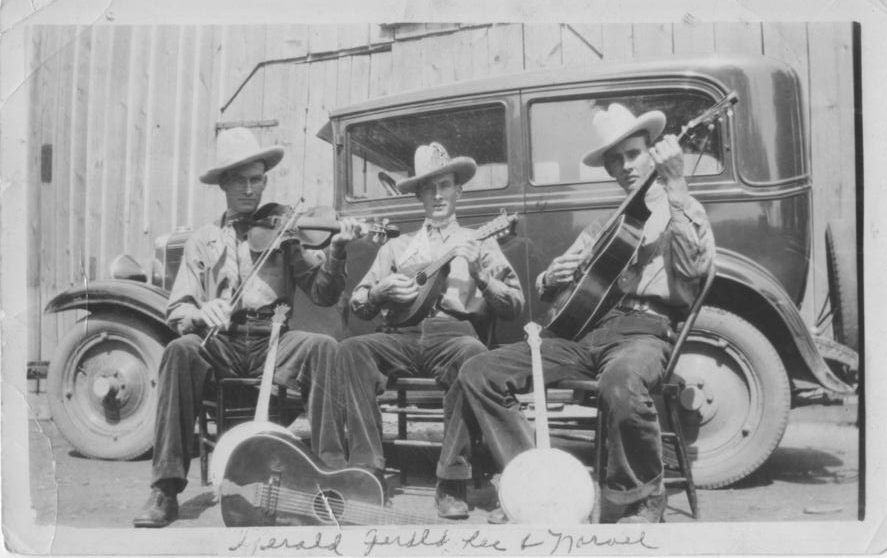 inside traycard photo of the Mabus Brothers, circa 1935
Here's the deal: I have been wanting to lay down some of my favorite banjo tunes, and also tell some stories — stories of people I've known who now live only in my memories. Also, it's time to relate a few things I believe about this puzzle of an instrument I've been playing for 43 years. This recording was made in two days, December 18 & 19, 2006 in Kalamazoo , Michigan , with the help of my friend & recording engineer, John Stites. I use two different banjos here – my 1989 custom Bart Reiter inspired by the Vega Fairbanks design, and a circa 1889 John Henry Buckbee with a spun-over rim, restored by Bob Smakula. Both are open-back 5 strings played in the clawhammer fashion.
The monologues here are all true stories or, in the case of bald opinion, my true beliefs. I talk about real folks I have known and the reasons I love old-time music and the banjo in particular. I tell the story of my parents, Gerald and Ruby Lee Mabus, born in 1913 and professional "hillbilly" musicians during the Great Depression. Then there are the other family musicians, and the story of their benefactor, WLS & Prairie Farmer in its heyday. I have forgone my usual songwriter's tools of meter & rhyme, and just tell the stories while the banjo gallops alongside.
The songs proper are mostly from the rough side of life. Three involve prison labor: Brazos River cane cutters, steel-driving John Henry and the coal miners in "Roll Down the Line" all have basis in historical fact. The Child ballad, " Willow Garden " is murder most foul. And "Three Nights Drunk" is a bit of old-time marital comedy, while "Uncle Joe" is pure square-dance foolery.
The tunes are a diverse bunch. It's one of folk music's great ironies that the haunting shape-note hymn "Wondrous Love" shares a melody with the tale of the outlaw, "Captain Kidd." Savior or pirate, take your pick – both involve capital punishment. I pair two Irish tunes here: "Paddy on the Railroad" and "The Reel with the Beryl," (a variant of "Drowsy Maggie"). "The Dragonfly" was inspired by the backyard arrival of the same, and is a bit of my own tunesmithery. The rest are mostly hits from the old-time juke box, where I've dropped many a nickel.
In fact, only a few of these titles could be called obscure. There are some scholarly revivalists who treasure the arcane & abstruse, but dismiss the more common tunes with a certain disdain. Not me. I purposely chose some well-known numbers here, like "Cripple Creek" & "Cluck Old Hen," because they deserve a healthy outing now & then — and I give these tunes their head. But none of these are "received" versions. I tend to inhabit a tune until it fits my own skin, and over time these old melodies seem to take on the taste of my own personality. No apologies.
And there it is, and here you have it. Visit my website (joelmabus.com) for old-time pictures of Gerald, Jerald Lee, Ruby, Bud and Narvel. While you're there, drop me a line if you feel like it. And as Colonel Jack & Shorty used to say, "Pucker up and keep smiling!"
Joel Mabus 2007
Foreword Looking Back 2:34 (B - aDADE)

The Dragonfly 2:15 (B - aDADE)

Cindy / Gerald & Jerald Lee 6:07 (B - aDADE)

Three Nights Drunk 3:04 (B – aEADE)

Cripple Creek / The Desert Island 6:51 (B – aEAC#E)

Whistling Rufus 1:57 (R – gDGCD)

The Uncloudy Day / Leonard Lively 5:31 (B - aDADE)

Wondrous Love (Captain Kidd) 2:00 (R – gCGCD)

No More Cane on this Brazos 3:26 (B – g#EADE)

Roll Down the Line 2:52 (R – fDGCD)

Liza Jane / WLS & Prairie Farmer 8:17 (B – aEAC#E)

Uncle Joe 2:25 (R – gCGCD)

Crazy Water Crystals 3:17 (R – gCGCD)

The Other Rock the Cradle, Joe 1:32 (R – gCGCD)

Down In the Willow Garden 4:23 (R – gCGCD)

John Henry's Hammer 3:26 (B – aEADE)

Paddy on the Railroad / The Reel with the Beryl 3:24 (R – gCGCD)

Cluck Old Hen / One Gentleman's Opinion 6:01 (B – aEADE)
Any title in italics indicates a monologue with banjo accompaniment. The rest are songs or tunes. Two different banjos and seven different tunings are used. In parentheses, "B" means the 1889 John Henry Buckbee banjo, "R" means the 1989 Bart Reiter. The tunings follow as the 5 strings in order, 54321.
All music is traditional, adapted & arranged by Joel Mabus, except "The Dragonfly" which is an original composition by Joel Mabus. All monologues are written by Joel Mabus. All of the material is ©2007, Joel Mabus, Fingerboard Music, BMI – all rights reserved. Recording ©è2007 Joel Mabus, catalogue # Fossil 1707

copyright 2007, Joel Mabus -- All Rights Reserved