A Parlor Guitar Christmas
(fossil 2212)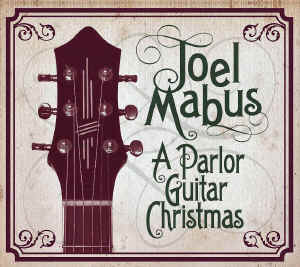 How to Order this CD
(click on pic for larger view)
[click here for published liner notes]
[click here for a personal note about this album]
[click here to read reviews]

Released October 2, 2012
how to order this cd
(available for download, too)
"For your Christmas vespers: a peaceful collection of carols, hymns & songs handed down from earlier days, lovingly and tastefully arranged for solo acoustic guitar. Take a break from the hustle & fuss with the serenity of A Parlor Guitar Christmas." [notes from the album jacket]
1 Wexford Carol Irish anonymous 12th c. (2:56) click for MP3 sample
2 The First Nowell English anonymous 16thc. (3:10) click for MP3 sample
3 Il est né, le divin Enfant! French anonymous 17th c. (2:09) click for MP3 sample
4 While Shepherds Watched their Flocks Handel 1728 (2:06) click for MP3 sample
5 Stille Nacht (Silent Night) Gruber 1818 (3:30) click for MP3 sample
6 Come, Thou Long Expected Jesus Prichard 1830 (2:19) click for MP3 sample
7 Hark! The Herald Angels Sing Mendelssohn 1840 (2:40) click for MP3 sample
8 We Three Kings of Orient Are Hopkins 1857 (3:17) click for MP3 sample
9 Wassail Song English anonymous 19th c. (1:40) click for MP3 sample
10 Up on the Housetop Hanby 1864 (1:52) click for MP3 sample
11 O Little Town of Bethlehem Redner 1868 (3:01) click for MP3 sample
12 Toyland Herbert 1903 (3:04) click for MP3 sample
13 In the Bleak Midwinter Holst 1905 (2:38) click for MP3 sample
14 Gesu Bambino Yon 1917 (2:58) click for MP3 sample
[click here for published liner notes]
This is sort of a follow-up to an earlier album. In 2005, I released Parlor Guitar which was a collection of guitar instrumentals drawn from the (mostly) popular music of the parlor music era -- that period just before the invention of the microphone in the early 1920's -- and celebrated the charming tones of the smaller acoustic guitars of that time. Those small guitars were meant to be heard up-close and in small rooms, and not the concert stage. This new cd follows that idea with a collection of holiday music similarly arranged and performed on a nicely-built fingerstyle guitar.
But it is also a sequel to an earlier holiday album of mine, 1999's How Like The Holly. In that album, there were some guitar instrumentals, intertwined with several songs as well. My goal at that time was to offer an eclectic collection, highlighting some lesser-known carols, ancient melodies and a few of my own original songs. While that album has been very warmly received (and I am still proud of the project), I have learned that the Christmas season has some unique musical aspects I had not considered back in '99. And that is the magnetic power of the old well-known carols. Every December when alone with my guitar, I find myself fingering the old familiar melodies that create the mood I know as Christmastime.
So with A Parlor Guitar Christmas, my goal was to record a collection of some of my Yule-tide favorites -- the result of a lifetime of Christmas Eves spent playing my guitar -- that evoke the tranquility I personally seek in the season. There are no Frostys or Rudolphs or drummer boys here. These tunes go back a generation before those characters arrived on the scene. And no overdubs or digital gimmicks for my guitar arrangements -- just my fingers on six strings.
What I hope to offer here is an evocative, serene, and fairly pristine reading of some familiar and truly beautiful melodies. Music for Christmas dinner, or for tree lighting and present wrapping. A soft guitar to cool the temper in December traffic jams or to simply set the mood for star gazing on a snowy evening.
Click here to return to the Recordings Page

©2012 Joel Mabus
All Rights Reserved