Six Of One liner notes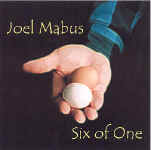 When I was young, I had certain treasured albums in my record collection. Among them were titles like "Woody Guthrie Sings Folk Songs" or "Leadbelly Sings Folk Songs." Those simple declarative titles were all the sales job needed. "Folk song" was considered a cool, even "hip" commodity in the early 1960's. For most of my professional career, however, to be branded as a "folksinger" has been to wear the mark of Cain. But that has not stopped me from loving and performing wonderful old folksongs right alongside my own compositions.

I toyed with the idea - half jokingly and half seriously - of an album titled "Joel Mabus Sings Folk Songs." A collection of vintage folksongs appealed to the curmudgeon in me, or at least my sometimes "hip-to-be-square" attitude. But I had a crop of new songs ready for harvest, too. What you have before you is a blend of those two concepts. I chose six of my new songs and stacked the deck with my versions of six classic folksongs. Here they are, taking turns explaining love and death - the new alongside the old. If you were to program your CD player to play only the even-numbered tracks, you will hear the timeless. The "odd" ones are all mine, I'm afraid.

School For Love is one such of my own. I am joined here and elsewhere on the album by two wonderfully talented friends: Peter "Madcat" Ruth on harmonica, and Don Stiernberg on mandolin. Madcat's years of touring with Dave Brubeck and Don's close association with the late Jethro Burns leave me humbled to have them both join me on record. Madcat and I have long wanted to get his harp together in the studio with my clawhammer banjo, which is what we do on Careless Love. This is not the orthodox melody you may be used to. I have sung this song for nearly forty years, and seem to re-interpret it every time I play it. The version that first made a strong impact on me was Bill Monroe's. Since then, I have always heard this song as more bitter than sweet.

As it happens, six of the songs on this collection have the word "love" somewhere in their lyrics. My Ramona is another of them. While the protagonist here has his frustrations, Don certainly has no problem adding some sneaky mandolin licks to my dual guitars. Though the melody that follows might be new to you, it is actually the only one I've personally heard a source singer use for Old Smokey. I clearly remember Madge Moore singing "Smokey" at the Kent State Folk Festival years ago. A plainspoken mountain woman, she sang with no accompaniment and introduced every song exactly the same way - "Well... here's another one." She used this same hard-edged melody Roscoe Holcomb used to sing - not the saccharin variation on "Little Mohee" that we all know too well. I'll admit I've stylized the song myself by arranging it for DADGAD guitar. As with the other traditional songs here, I freely assert my privilege as a performer to filter a song through my own sensibilities. It's my own "folk process."

Storybook Romance came out of a songwriting class I taught at the California Coast Music Camp. The assignment was to take, as a starting point, something that scared us as children. I remembered a picture-book version of The Wizard Of Oz with a scary green witch on the cover that really disturbed me when I was 3 or 4. Then, of course, there's the classic 1939 film, which has left more than one of us with deep-seated "flying monkey issues." I also asked each student to incorporate a primary color into his/her song. I managed to get the rainbow into mine, while exploring a more grown-up fear.

Barbara Allen has a long history. My old friend Art Thieme collected this cowboy's version from an actual cowhand he met many years back. (Art tells me he remembers his name as either Del or Dave Bray.) For decades, Art has entertained audiences with The Cowboy's Barb'ry Allen and now I do, too. The many bookish Elizabethan renderings I've heard never did much for me, but I can understand a woman who "makes all the boys ride saddle-sore." Now, to understand some of the characters in Little Baby Lindberg, some younger folks might need to crack open a history book. That's fine with me. I think of this dark little ditty as my sing-along for the post-existentialist era.

Old Baggum, or "Wild Boar In The Woods" has been around in one form or another for a very long time. I'm sure that since the very invention of language, there has been in every culture a tale of the beast in the woods that will eat or be eaten. My version leaves that unsettling question unsettled once more. Thanks to Dan Crary for persuading me to try the old Irish tune, Toss The Feathers on my clawhammer banjo. It's Phillip Glass-like intensity pairs nicely, I think, with Baggum.

These days it seems that the "wild beast" may no longer be in the woods, but much closer to home. Virus On The Town looks at gun violence in America. A Balm In Gilead may hold the answer. I've humanized the verses of this old spiritual a bit to fit my own sensibilities, but it never fails to move me when I sing it.

Thanks to my friend, Wisconsin poet and singer Bobby Vail, for pointing out that the back porch of heaven will probably be the best reward. I wrote Back Porch Of Glory with the old-time country sound in mind. So Don and I recorded our "brother duet" in the old time way -- live in the studio with no "punch ins" or overdubs. A true old timer, Don't Let Your Deal Go Down, ends up the set. There are many versions of this song out there -- mine wears a big ol' thumb pick. Thanks again to Don & Madcat for tearing it up.

And there you have it, fresh from the nest - six of one and half a dozen of the other - love and death on the half shell. Finally a word to my fellow "acoustic" performers: If they insist on branding you as a folksinger anyway, why not sing a folksong now and then? Get accused of it -- might as well do it!

Joel Mabus, 2001.

[back to the SIX OF ONE recording page]

(c) 2001 Joel Mabus