Six Of One
(fossil 1301)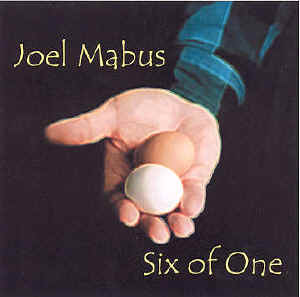 Released in 2001
how to order this cd
(available for download, too)

Six original songs and six classic folk songs take turns
explaining love and death. Featuring maestro of the blues harp,
Peter "Madcat" Ruth on harmonica & the amazing
Don Stiernberg on mandolin and harmony vocals.
Styles range from old-time to swing to celtic folk to
early bluegrass and everything in-between.

If you are looking for a good "first"
Joel Mabus CD to try out, this is it !
THE SONGS:
[click on or right-click & save "mp3 sample" to listen]

School For Love [mp3 sample]
Careless Love [mp3 sample]
My Ramona [mp3 sample]
Old Smokey [mp3 sample]
Storybook Romance [mp3 sample]
The Cowboy's Barb'ry Allen [mp3 sample]
Little Baby Lindberg [mp3 sample]
Old Baggum/Toss the Feathers [mp3 sample]
Virus On The Town [mp3 sample]
Balm In Gilead [mp3 sample]
Back Porch Of Glory [mp3 sample]
Don't Let Your Deal Go Down [mp3 sample]

© 2008 Joel Mabus