No Worries Now...
(fossil 2009)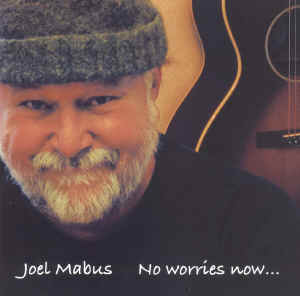 (click the picture for a bigger look)
Released September 15, 2009
how to order this cd
(available for download, too)
Recorded in the spring of 2009, these are all new songs I've written over the past 18 months or so. The first collection of all-new all-original songs I've done in a while. I had a great time writing, arranging, and recording these songs. The production values are a bit bigger than some of my recent CDs. Don't worry -- it is still my natural voice and acoustic guitar, but I added a bit of mandolin and second guitar here and there. And my old pal, Frank Youngman, came by to play upright bass on most of the tracks.
So here it is: a plate-full of new songs for these weary times. The musical moods oscillate from jump swing to bluegrass to gospel — with a little taste of jazz manouche and ragtime guitar in-between. The lyrics blend whimsy, politics, history, humor & philosophy in my usual manner. Each track below has an mp3 clip of 75 seconds of each song to give you a taste. There is a link to the liner notes near the bottom of this page if you want a closer look.
THE SONGS:
[click on or right-click & save "mp3 sample" to listen 75 seconds at 96kbs]
1 Am I Right [mp3 sample]
2 Come Along Again [mp3 sample]
3 Two Cents Plain [mp3 sample]
4 Alligator Ate Her Poodle [mp3 sample]
5 Little Mister Diddy [mp3 sample]
6 You Voted Red [mp3 sample]
7 Poison In The Glass [mp3 sample]
8 Halfway Home [mp3 sample]
9 Charlie Birger [mp3 sample]
10 The Lost Shall Be Redeemed [mp3 sample]
11 Give It Up [mp3 sample]
12 Shine [mp3 sample]
13 How Can I Keep From Singing [the old hymn re-imagined] [mp3 sample]
14 Extra Poison [bonus track] [mp3 sample]

all songs © 2009 Joel Mabus
All lyrics by Joel Mabus.
All melodies by Joel Mabus,
except cuts #4 and #13, which are from the public domain,
adapted and arranged by Joel Mabus
Click here to return to the Recordings Page

© 2009 Joel Mabus -- all rights reserved